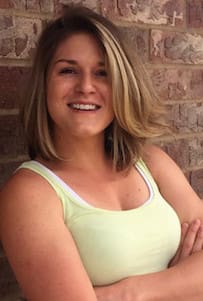 Chelsey Smith
Hey everybody!
My name is Chelsey Smith and I am pumped to be on the team here at Powered By You! I recently came to the conclusion earlier this year that has made it clear to me that I needed to be in business for myself. At my most recent job, I was helping people lose weight and get strong, but I wasn't doing it for the right reasons. It was all about getting them in and out as fast as possible with the least amount of work for the biggest return in profits. I felt myself burning out quickly and needed a new outlook. So I broke up with my job, got a new hairdo, and met Amy!
I bring energy and positivity everywhere I go and I hope to have it rub off on everybody at the PBY studio. With everything in life, there should be balance. I hope to inspire my clients that life is too short to worry about looks and vanity. Instead we should be focusing on overall health and complete wellness, inside and out. Exercise should be enjoyable and something to look forward to and I believe my training style reflects this way of thinking.
I have a golden retriever named Tilly, so please ask to see pictures of her whenever you see me. I am also married to my husband Aaron and we will be celebrating our 5 year anniversary in July of this year. If you ever need a pick-me-up or a good laugh, I am your girl! I can get really goofy and silly just to make someone smile. I also love to hike, swim in the ocean, ride my new bicycle, go to obedience classes with Tilly, and enjoy my beautiful Colorado Mountains with my husband going camping or backpacking. Life is truly great!
I graduated Cum Laude with a BS in Health Care Science from CU CO Springs with a concentration in strength and conditioning and a minor in nutrition. I also hold certifications from ACE as a Group Fitness Instructor and ACSM as an Exercise Physiologist. Recently I also became a Certified Balanced Habits Food Coach.
I look forward to meeting you!