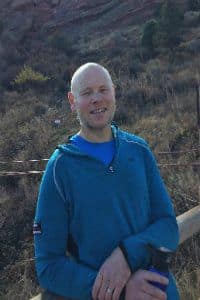 Douglas Wiseman
Certified Personal Trainer
About Douglas
I can remember as a kid a grassy area surrounded by the apartment complex I lived in. That grass field seemed perfect for playing football, baseball, soccer and was awesome for all the tag games! Going to school meant walking no matter what the weather provided. As I grew a few years older there were the typical boy outlets to take advantage of like football, baseball and basketball with the Colorado opportunities of learning to ski then snowboarding.
Then as we grow out of adolescence--literally--and become part of adult society we may flounder and lose a bit of the kid in us to play and stay active. Maybe you can relate to my experience of aimless and sporadic exercise by joining a gym and not having a clue how to use the machines, feeling some intimidation with free weights, and finding a back row cardio machine to mess with and hoping no one will notice you.
Around 1998 I was persuaded to take advantage of a special offer on a handful of sessions with a personal trainer. I ended up investing the next three years utilizing a personal trainer, and consider it one of the best investments I've ever made. Fast forward a few years, I had some unfortunate incidents including a tearing the ACL in each knee and chipping a bone in right ankle in three separate sporting incidents. On a more positive note I became close friends with two outdoor endurance athletes. These events all continued to be building blocks which peaked a profound interest in what physical activity really is, and what a lack of it does to me and to you.
Along the way I started working at 24 Hour Fitness and obtained my first basic certification as an Indoor Cycling Instructor in 2008. Since then I've added more in-depth training classifications including graduating from The National Personal Training Institute in 2013 and obtaining my Certified Personal Trainer credential from the National Academy of Sports Medicine. Shortly after, I was invited to join a Denver facility known as Blunt Force Personal Training and after an internship was given the reigns to instruct my own boot camp style classes and was there until June of 2016.
I started working for Natural Grocers/Vitamin Cottage in August of 2015 and recently transferred to the Kipling & Coal Mine store as produce assistant (all stores only have organic produce!). I was attracted to Vitamin Cottage because of the ethical, environmental and healthy eating habits they offer to the shoppers. They also provide nutritional education which goes hand-in-hand with physical activity to lead a healthy lifestyle.
As a side note, my interest in ethics of nutritional food in our country started when I attended classes learning how to be a Deejay and turntablist back in 2004. My love of music turned into a gig as a volunteer DJ for a local community radio station, which then led me to the news and public affairs side which has an ongoing dialogue of food practices in the world, our country and locally.
I continue endlessly searching for more information, ideas and knowledge to better my health and lifestyle and want to pass it on to you. Do you feel like you are floundering and aimless? Maybe it's increasing the miles in your endurance endeavors or preparing for the Spartan Race? Perhaps it is simply needing guidance and the support to go from one push-up or pull-up to 5 then maybe 10? I believe we all know it doesn't happen overnight but with the proper guidance, knowledge and support we can take a journey of hard fought perseverance and maybe find what it's like to be a kid again. I would love to help you on that journey!