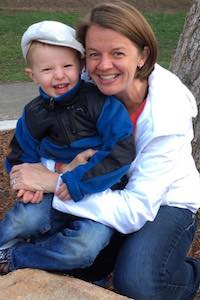 Jenn Ray
Hi! I'm Jenn and I'm the founder & owner of Sensory Strong LLC. This company is the glorious culmination of some amazing events and circumstances of the past 19 years.

In 1998, while I was in college, I ran my first marathon as a member of a charity fundraising team. I was immediately hooked. I loved the idea of being a part of something important. So, I worked in the nonprofit world for 6 years, primarily in athletic event coordination and fundraising. I gradually started talking to my event participants more and more about their training. I realized I had a passion for helping others reach their fitness goals. While I stayed involved in nonprofit, in 2006 I started my own personal training/coaching business and have loved every minute of it.

In 2013, my life became so much more full with the birth of my son, Dylan. By his second birthday, it was clear that he was developing differently from the way most of his peers were developing. He struggled in crowded places, insisted on holding an animal toy in each hand, struggled with transitions, was speech delayed, a picky eater ... you get the idea.
He was diagnosed with sensory processing disorder in 2016 and in 2017, it was confirmed that he is on the autism spectrum. Sometimes the world is too loud, too overwhelming and just too much for my sweet little boy. He also had some specific physical delays and deficits as a result. His occupational therapist has changed our lives! With guidance from his OT, the improvements we've been able to help my son make in areas of core stability / strength, balance, coordination and grip strength have easily been my most rewarding accomplishments as a personal trainer. The smiles, laughs, high fives and hugs we've shared during these sessions are among my favorite memories as his mom.

Throughout my fitness career, it's been so rewarding to help clients restore abilities that have been compromised due to trauma, illness or condition. As a Therapeutic Exercise Specialist and Physical Therapist Assistant (in progress), I'm fully committed to helping you and your family in the same way.
Credentials:
Bachelor of Arts - Sociology
Certificate: Gerontology
Associate of Arts – Physical Therapist Assistant (in progress)
Certified Personal Trainer: American Council on Exercise
Therapeutic Exercise Specialist: American Council on Exercise
Certified Group Fitness Instructor: American Council on Exercise
Youth Training Specialist: American Council on Exercise
Registered Behavior Technician (in progress)
Corrective Exercise Specialist: National Academy of Sports Medicine
Certified Pre- & Postnatal Fitness Educator: International Childbirth Education Association
Certified Muscular Strength Range of Motion Instructor: Silver Sneakers
Certified Cardio Circuit Instructor: Silver Sneakers
Certified Level 1 Kettlebell Trainer: International Kettlebell and Fitness Federation
Certified Level 2 Trainer: Heart Zones
Certified CPR / First Aid / AED: American Heart Association
1st Degree (Dan) Black Belt in Taekwondo: World Taekwondo Federation
Special Needs Momma Bear!