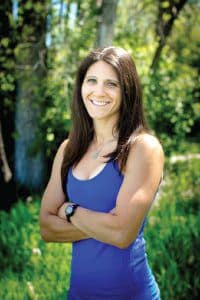 Stefanie Callens
Stefanie Callens – Certified Personal Trainer
I spent over 10 years in corporate America and wasn't feeling fulfilled. Fitness has always been a passion of mine so I decided to follow my dream and help change people's lives. There is no greater feeling than watching a client achieve something they didn't think possible. Whether it's getting to a specific weight, crossing the finish line at a race, or doing a regular pushup – the joy is the same.
My Approach:
I am a strong believer in functional training. You need to train the way your body moves, so that you are able to easily do all the things you want to do in your daily lives – and so that you can continue to move as you get older. Part of my job as a personal trainer is to motivate and encourage you and help you achieve your fitness goal, regardless of what it is. I am committed to keeping you on track to reach your goal and see the results that come with it. When you fall, I will help you in getting up. We are in this journey together, and I will be there with you, supporting you every step of the way.
I also am a believer that what you put in your body is as important as what you can do with your body. Good nutrition and regular exercise is essential to leading a healthy life!
"Take care of your body. It's the only place you have to live in." – Jim Rohn
Credentials:
Certified Personal Trainer, American Council on Exercise (ACE)

CPR/AED and First-Aid, American Heart Association

ACE Fitness Nutritional Specialist (can help develop food plans that will compliment workouts)
Specialized Population Groups:
Both Pre and Postnatal clients

Clients battling obesity

Chronic knee pain (little or no cartilage in knees)

Shoulder/scapula injuries

Weak ankles

Sciatica
Other niches:
Specialized Training Received:
Pre and Post Natal Training

Overweight and Obese Training

Integrated Hip and Core Training