My name is Suzann and I am 52 years old. I came to the Powered By You studio feeling physically weak and broken, not knowing what to do about exercise and weight loss. I found myself in a very ironic situation since I had grown up participating in sports all through middle and high school and even participated in co-ed sports during my 20s. I continued to stay active until my mid 30s and then I really started to add on the pounds. I went through cycles of losing and gaining weight. It seemed that I would gain more weight with each cycle. I knew that I needed to be proactive about my weight loss, but I just didn't know where to start.
When I found Powered By You, I was at my heaviest weight. I had long ago decided that if I could not get myself together enough to have the discipline to eat better and exercise to lose weight, that I would stay overweight - having bariatric surgery was never an option for me. At the same time I joined PBY, my older sister who had been obese for a majority of her life, passed away. I believe that her weight contributed to her disease state and her ultimate demise. This was a harsh wake-up call for me. I knew at that point and at my age that I needed to make a life change – for good.

The positive atmosphere of the PBY studio (Amy and all of the trainers I encountered) and having Courtney as my trainer was exactly what I needed. Courtney could relate to my issues with food. She had good insight and provided me with many options to deal with stress in my life. She also knew exactly what exercises to have me do in order to protect my bad back and knees to get me on my way. Due to my bad knees, I had not been able to squat since 2012. I was skeptical whether I would ever be able to do a full squat again. It has been 17 months since I first joined PBY and so many positive things have happened since then. I now feel strong again and have confidence in my ability to work out on my own and know that I am getting a good workout. Since joining the studio I have lost over 50 pounds (and over 60 lbs total, I had lost 8 before joining PBY) and over 30 inches.
Last May 2016, I was able to go off my blood pressure medicine. I have influenced others I work with to be more active by inviting them to participate in a spin class offered by my employer. Through better health incentives provided by my employer, I was asked to be interviewed by the American Heart Association as someone who had changed their life style. And yes, I can now squat (very carefully) – amazing!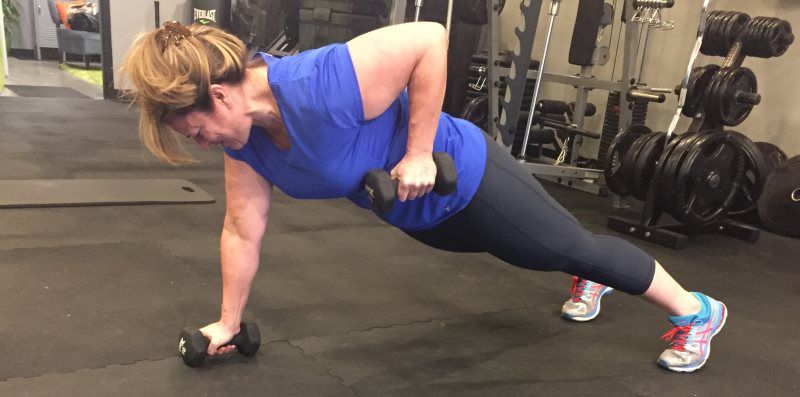 I still have a long way to go in my weight loss journey, but I am committed to stick with it for as long as it takes – no more quick fixes that don't last. I am in it for the long haul. I am looking forward to being more active than ever and there are so many cool things I want to try, such as rock wall climbing, snow shoeing, mountain climbing, snowboarding and who knows what else! I also have two grandkids that I love being active with. My dream is to be the oldest woman to compete on American Ninja Warrior. I don't know if I will ever attain this, but it will be fun trying! I don't need to win, I just want to show people it can be done and that age is just a number.
From all of us at PBY, CONGRATULATIONS SUZANN!! You are an inspiration and we thank you for sharing your story. You may not even know it, but you are influencing many others to start this journey. We can't wait to watch you on American Ninja Warrior!!!